BULK SMS: TIPS FOR A SUCCESSFULL BULK SMS MARKETING

Bulk SMS API is a high-quality SMS platform, enabling you to integrate any of your applications with our SMS message sending and receiving system. The main advantage of our system is its simplicity of implementation. The SMS message may have your company name or any phone number you own as sender name. Every message sent from our system has its own unique id, which allows you to receive confirmation of its delivery. Our Platinum Partner Operator status guarantees the highest quality text service at up to 8,000 messages a second. What's more, our Bulk SMS API can personalize messages, receive delivery receipts, schedule messages and pull results from mobile forms and surveys into your app. Our SMS gateway can also handle tickets, enabling you to send individual vouchers or tickets. Try sending a message using our Bulk SMS API today.At usmsgh, we are dedicated to helping you get the most from your SMS marketing activity. We understand the importance of achieving your goals and can advise on the best practices to maximize the potential of your mobile marketing campaigns, in addition to providing a comprehensive marketing toolkit on usmsgh platform. We help businesses use mobile marketing effectively, whether it is to build prospective customer database, to generate leads with effective campaigns, to convert them with special offers or to retain existing customers through loyalty points and timely feedback process. The results you achieve are often based on what you learn from previous campaigns and big data. And that's why we recommend you to conduct campaigns that can be easily tracked and give you granular analytics. It is imperative that you use this data to make key decisions, gain valuable insights into customer behavior and campaign effectiveness and continuously optimize your mobile marketing campaigns to achieve the best results. Take a look below at our top tips to increase the performance of your next mobile marketing campaign…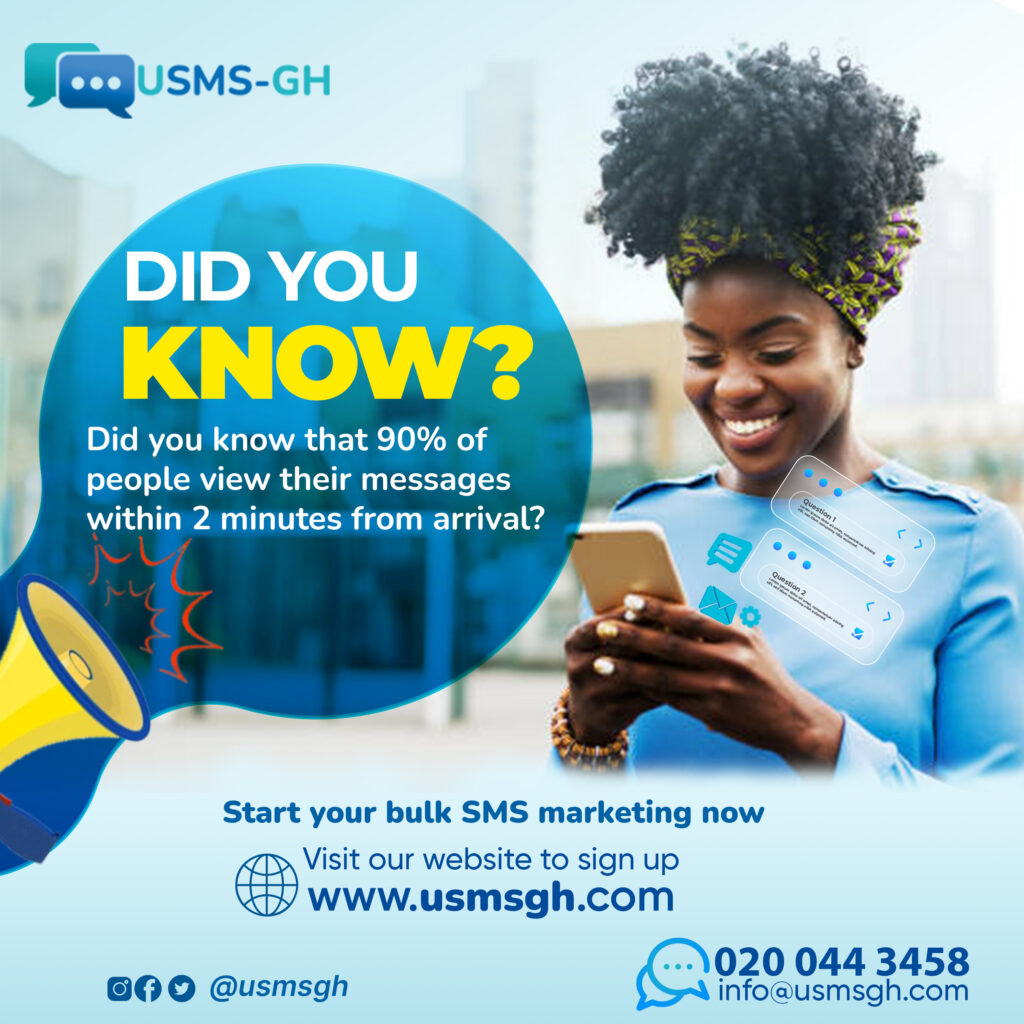 1. Include a clear call to action
Ensure that the reason for the SMS is made clear. You want the recipient to act on your SMS, so tell them what they need to do to benefit from the information they have been sent.
Make sure you measure how effective your bulk SMS marketing campaign has been so you can improve it further next time. How many responses did you get? What was your return on investment? Try texting different offers, at various times of the day, days of the week, or target different groups of customers, to find which works best for you. Usmsgh provides granular click through metrics for webpages, files, and coupons attached with your SMS campaigns.
3. Know your audience
Make sure that the recipient is going to be interested in what you have to offer. It's likely that each offer or message will need to be tailored to individual customer groups. Age, gender, location and past purchases should all be taken into account when you send out your messages. For example you wouldn't offer free lipstick to men, because it's likely the response rate would be next to zero and some of your customers may choose to unsubscribe as a result. Paying attention to a customer's purchase history and collecting her demographic data will help target effectively. When working with bulk SMS marketing, just as with anything, the details are all important. In order to get the most out of your bulk SMS, you have to make sure that you include certain elements. So let's look through a list of tips, tricks, and details that will help you get the most out of your SMS marketing.
4. Use analytics to keep refining your SMS marketing campaign
The key here is to keep doing it. Your analytics will tell you how people have responded to your SMS campaign so far, so you can try to watch the trends and adjust your SMS marketing campaign to match. Analytics may seem a bit techy, but there's really no way around it if you want your marketing to be effective. They're basically a measure of how well your messages are being received. What kind of ROI are you getting? How many responses? Test different times of the day and days of the week, as well as different subgroups of your demographic. This feedback generates valuable insights into campaign effectiveness and customer behavior. Keep watching these results, and adapt your SMS marketing to fit.
5. Short and Sweet!
Very few people want to spend more than a minute looking at a message. The goal in bulk text messaging is to figure out what you want to say in 160 characters or less. Get clear on what you really want to say. Get to the point straightaway and show the customer how great what you offer is for them. With as few words as possible.