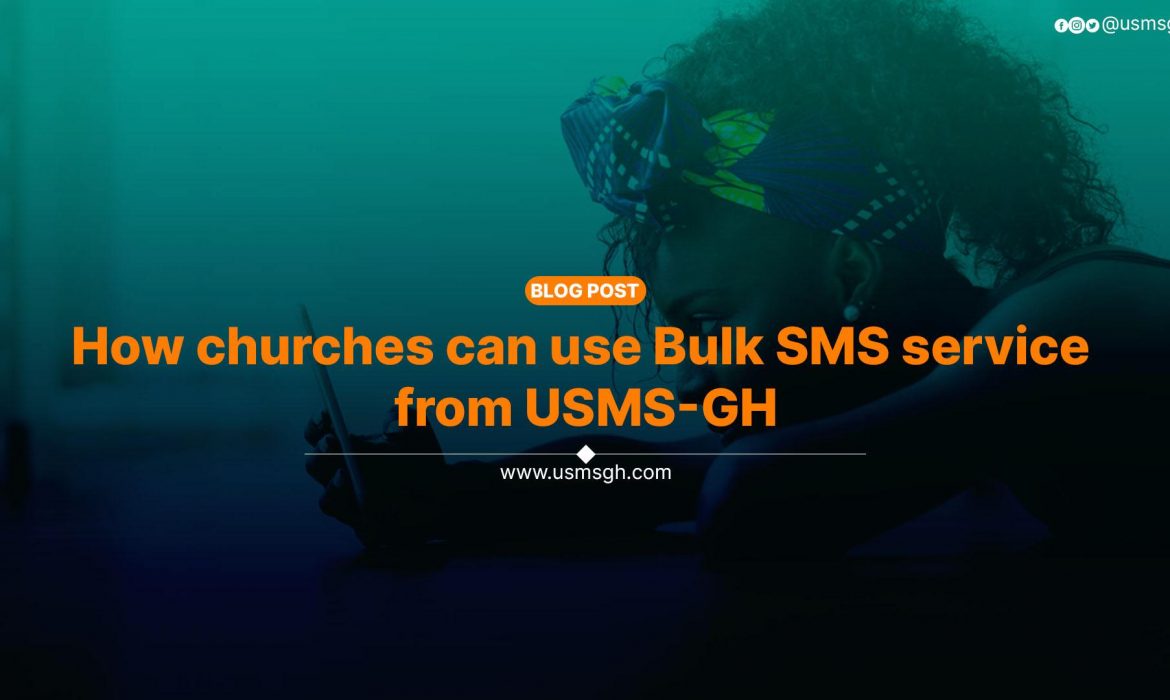 In our modern age, more and more people are connecting and communicating through digital means, one of the leading methods being SMS messaging, and it's important to communicate how churches can use Bulk SMS service from USMS-GH
Using our simple, automated, and out-of-the-box bulk SMS solution, church leaders and staff can touch base with thousands of individuals with just the click of a button.
USMS-GH grants API access allowing engineers of churches to integrate their existing church marketing software with our platform. USMS-GH can get very technical with our API and/or keep it simple with our all inclusive inbox that allows simple one-on-one and bulk text messaging campaigns.
We've compiled some church promotional ideas that can be utilized to optimize your church SMS marketing campaign with USMS-GH.
When there is a need for churches to send prayer requests out and actually get them read, how do you do this? Using text messaging of course.
Your church community leans on each other through thick and thin. When the time comes that a member of your congregation requires a thought or kind word said for them, you can use bulk SMS messaging to kindly send out a request to the other members of your church.
2. Send Scheduled Service Reminders
On a weekly basis, you can choose to send out a scheduled service reminder to members of your church, and in turn, receive any information about patrons who cannot attend that week.
For example, during Easter and Christmas, churches see a lot of people at service. Have the pastor ask everyone to opt in to your contact group. Then, after Easter and Christmas, keep in touch with them by sending them Sunday service reminders.
3. Provide Daily Devotionals to Your Congregation
As a regular attendee and active member of your church, your community looks up to church leaders to help them work their faith into their everyday life. By sending out a daily devotional via SMS, you can provide members with a little reminder of their faith each and every day.
4. Give Reminders for Special Events
If your church has a special event going on, such as a family night or summer barbeque, you can send out an SMS message prior to the event acting as a reminder of the community gathering.
5. Host Contests for Your Congregation
Want to build up anticipation leading up to your next church service? Create a fun contest for church members. Perhaps for the next service, everyone who wears green will get a special gift. Have fun with your church promotional ideas by creating SMS contests!
6. Message Specialized Church Groups
Within many large churches, there are sub-groups who actively participate in other church-related activities, such as youth groups, men's clubs, or women's clubs. With USMS-GH's business bulk SMS service, you can organize contacts into specific groups and easily communicate updates with these specialized groups.
7. Send Emergency Updates or Last Minute Communications
Emergencies happen. If this is the case, USMS-GH bulk SMS services can help you quickly reach the members of your church and communicate any last-minute updates.
8. Promote Holiday Services
Special holiday services, such as Christmas and Easter may occur at different times than your regularly scheduled service. Make sure that your members know by sending out a couple of SMS reminders surrounding the service so that your entire community can gather and celebrate together.
Whether you have a large congregation, or want a simple and accessible way to contact your entire church community, USMS-GH bulk SMS services can help you manage your communications and your church marketing with ease.
We understand how important keeping in touch and building good relationship with members is, that is why we created this platform with guides on How Churches can use Bulk SMS services from USMS-GH.
For further support, contact Support