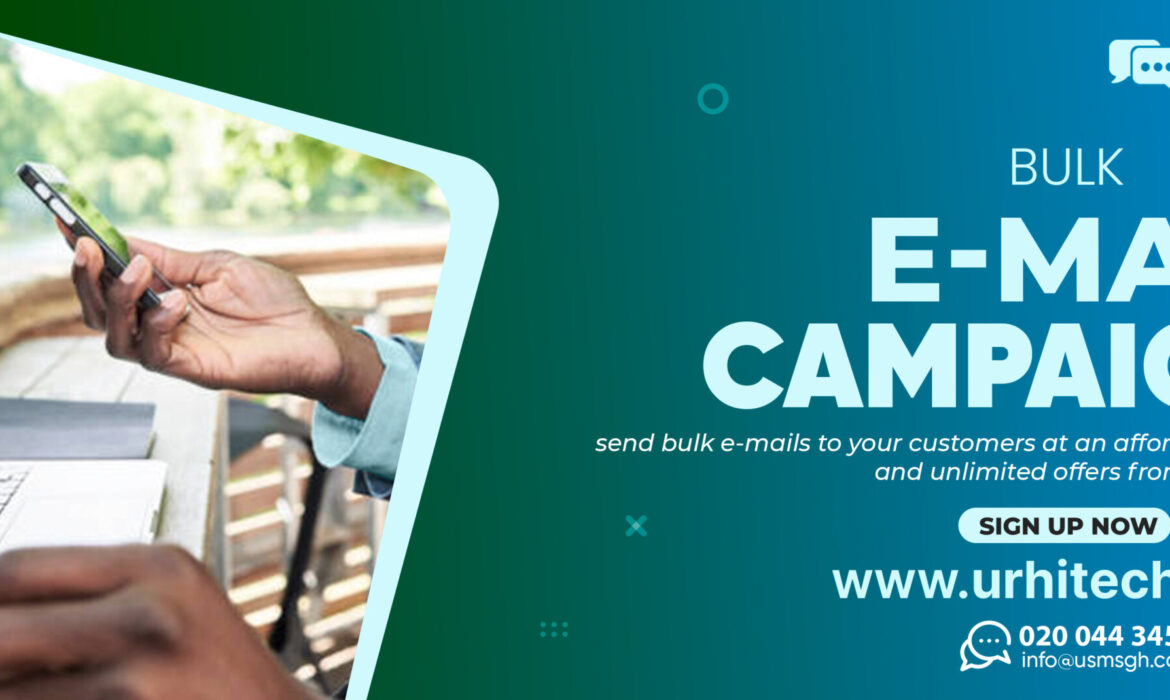 Email Marketing Campaign
An email marketing campaign is a sequence of marketing efforts that contacts multiple recipients at once. Email marketing campaigns are designed to reach out to subscribers at the best time and provide valuable content and relevant offers. Using email marketing campaigns allows you to build deep and trusting relationships with your customers.
USMS-GH shares versatile content ideas for your email marketing campaigns. Check it out to learn more about what email marketing campaigns can do for your business.
Why should I send email campaigns?
Emails help nurture leads
Emails help keep customers engaged
With emails, you can collect data about subscribers
Emails help convert
Emails help your business improve
Email marketing campaign makes communication with clients easier and more effective. Email marketing campaigns are a powerful medium between your company and your audience. They help not only to increase sales but build your brand image. Below we listed some objectives you can achieve by sending email marketing campaigns.
Emails help nurture leads.

Each

new lead requires nurturing

before making his first purchase. The task of your marketing team is to provide them with the right educational materials. They include how-to guides, live demos, workshops, webinars, useful checklists, tutorials, etc. Each email will make a user move down the sales funnel. Predict all possible pain points that a user may face when dealing with your brand and eliminate them.
Emails help keep customers engaged.

Now it's getting much harder to stir users' interest in a brand. So, you have to come up with new formats and new offers. Email is just the place for experiments. Via this channel, you can share important information, show your expertise, and offer exclusive deals.
With emails, you can collect data about subscribers.

To provide every user with an individual approach, you need to collect information about them. With an email campaign, this task is as easy as pie. All you need is to ask subscribers to share some important data for you to craft more targeted and personalized offers. Then, you can divide all your list into segments, and send relevant content to each group.
Emails help convert.

With all this personal information about your clients, you can create unique promotions for each user. Track their interactions with your brand and you'll get to know their favorite products and buying habits — they will help you send emails triggered by clients' actions. As a result, you'll increase your email performance and sales.
Emails help your business improve.

Ask your clients for feedback. You can do this right after the purchase or on a regular basis via a survey. You'll find out what customers appreciate the most about your brand, which difficulties they face, and what they would improve.
When is the best time to send an email campaign?
The best time to send an email campaign depends on the topic of the message, the audience's lifestyle and habits, and the day of the week.
Typically, the best days are Tuesday, Wednesday, and Thursday because Monday is the busiest day of the week, and on Friday, people try not to leave anything for the next week and cope with their week tasks. Saturday and Sunday often family days, so people spend most of their weekend relaxing and not reading emails. Check out our blog to learn more about the best time to send email marketing campaigns.
The best hours are:
around 6 am

as many people have a habit of checking their phones in bed;
around 10 am

because people also check their emails at the beginning of the working day;
around 2 pm

because people have lunch or coffee breaks;
from 8 pm

to midnight because during these hours people are usually free and many of them have a habit of reading emails before going to sleep.
Though, it's much easier to identify the worst time to send email campaigns in most cases: it's inconvenient to read emails during rush hour when people commute to and from their work and at night, as there is a risk of waking them up. You'd better avoid these hours.
It's necessary to use A/B testing to realize the optimal time to send emails for your sector of business. A/B tests measure the email campaign's success by open rates and click-through rates.
When you find out the best time for your business to send email campaigns, you can effectively schedule your campaigns with USMS-GH.
Email Campaign Types
Welcome emails
Announcement emails
Testimonial request emails
Holiday emails
Invitation emails
Seasonal emails
Reactivation emails
Abandoned shopping cart emails
Cross-selling emails
Upselling emails
Newsletters
Anniversary emails
Welcome emails. A welcome email is sent when a user subscribes to your mailing list. Ask clients to set their preferences regarding email frequency and the content they are going to receive.
Announcement emails. These are sent to announce an upcoming holiday, event, release of a new product or feature, etc. The aim is to make subscribers interested, encourage them to buy or to visit.
Testimonial request emails. This email campaign is sent to ask clients to leave feedback by commenting, reviewing, or completing a survey to improve the service.
Holiday emails. This type of email campaign engages people with holiday discounts before Christmas, New Year, and other holidays. It builds trust and strengthens positive emotions associated with your brand.
Invitation emails. This email marketing campaign invites subscribers to visit an online webinar, a party, a conference, etc.
Seasonal emails. Intended for sending relevant seasonal offers like umbrellas in rainy storms, or sunglasses in Summer, for instance.
Reactivation emails. Emails sent to inactive clients who lost interest or have forgotten about your company. Don't just say goodbye to them, try to reactivate and remind them how much value you can share.
Abandoned shopping cart emails. Sometimes subscribers leave items in the shopping cart without buying them for some reason. An abandoned cart email marketing campaign suggests that subscribers return to their carts and inspires them to complete the purchase.
Cross-selling emails. This type of email campaign promotes related products. If your client bought a smartphone, a phone case would be great to cross-sell.
Upselling emails. It describes and offers more advanced, upgrades, and expensive products than the customer considered or bought before.
Newsletters. The most widespread email marketing campaign. Newsletters provide customers with valuable and non-promotional information. If performed well, newsletters help brands build trusting and loyal relationships with people.